by J.D. Wacker
Directions:
You may find a DIY package or Cheap Online package to cook up your own website but your results will taste bland like cardboard and not be too appealing.
Remember that in this recipe, each of these ingredients separately can be expensive, unreliable, or don't blend well with the other ingredients. Also, consider that you will need to maintain them over time and if one of them goes bad, your website may spoil and all your efforts will be lost. Warning: this recipe is known to be difficult to complete and cause you to lose control of the other important elements of your business buffet- like production, finances, education, development, etc.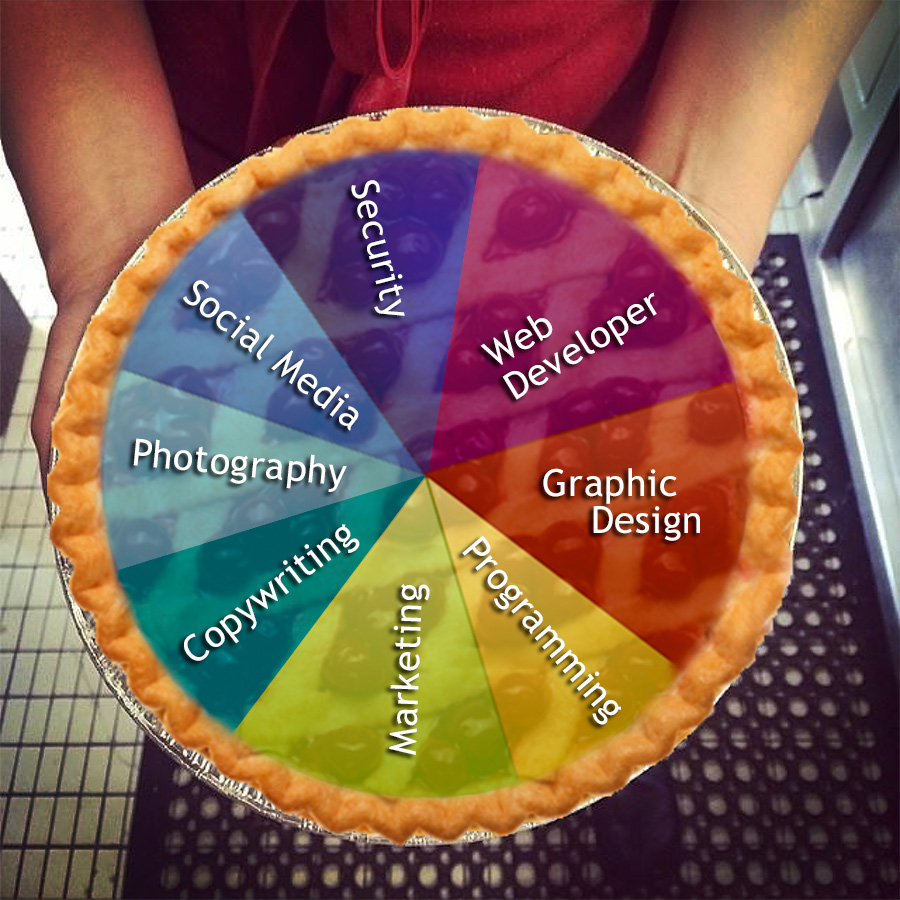 Ingredients
1 Marketing SpecialistSomeone who can learn all about your company's strengths, weaknesses, opportunities, threats, etc. and mix them into a blend that appeals to a variety of people. Your website gains leverage when paired with other advertising and promotional tools that complement it, and it them. Your marketing specialist must know how to set your website on your marketing table, otherwise although it may be delicious, if no one knows where it is, no one will ever know. Misplaced creations do not help businesses sell.
1 Web Designer: A skilled pro who can can handle all the tools, find and develop the finest ingredients, and work together with others to produce a website that can help find new leads, interact with them, and magically turn them into customers, members, or fans.
1+ Copywriters: A person with the technical flair to take anywhere from almost no information to tons and formulate or filter just the right amounts needed to properly flavor your website. Caution: too little and your website will be bland and generic, too much and no one will try to eat it all. Also, not all markets share the same tastes! Often, it is necessary to create custom mixes of copy to compel more prospects to engage in your website.
1 Graphic/Logo Designer: If you dare to try this one yourself, you may just ruin the whole pot! Remember about first impressions! Your logo and graphics should be everywhere and in front of everyone. Do you want them to come to your website, take a taste and spit it out? If not, search for such an artisan who can show you a portfolio of their creations and ask for a taste test before making your whole marketing campaign.
1 Photographer/Videographer: A professional P/V can create one ingredient for your website that otherwise may take 1000! Don't try to buy canned images and expect them to taste as good as a creative chef who takes the time to learn your business before cooking. Also, photographs and videos must have just the right balance of flavors to work properly on your website. A professional P/V knows how to optimize images to look great and function online, and a true professional always makes their own stock!
1 Social Media Manager: Whether or not you like this ingredient yourself, it is essential to at least try it. Finding a talented and dependable social media guru is very difficult. Everyone is one on the weekends, but when you try to find one who is able to consistently bake quality content, it's a different story. Whether it's Facebook, Twitter, LinkedIn, or other similar ingredients, you'll have to learn which ones work for your market. It can be like learning another language. If you're successful, be prepared. You will have hungry company coming constantly, and if they don't get fed they get bored and angry and will leave quickly to find another cook.
1 Software Programmer: Think about what happened when you were little and put your hand on the stove- you got burned! Although, there are many great young hackers out there, how many have the experience to bake 0's and 1's into a masterpiece that is custom designed just for your business? It's one thing to have all the tools and ingredients, but it's quite another to know how to use them. Your web developer must make your website user-friendly, flexible, and manageable, otherwise your website may sour and lose its functionality.
1 Security & Updates Technician: If you bake a pie and set on the window sill, they will come. But what if you're oven breaks? There will not be pie and chances are, they'll stop coming, or worse, they'll come, but they'll surely be angry. For some reason, there are people out there that like to destroy what we work so hard to create, plus things can break for seemingly no reason. Your website can be the center hub of your business meal. If it's gone, other courses will suffer, like your social media and newspaper advertising, your brochures and business cards, etc. Find someone that can keep track of your website freshness and update it to help protect it from someone who is looking to spoil it.
So...Focus on what you do best and
Call Paradise Photo and Design!
The team of experts at Paradise Photo and Design will gather all of the ingredients and prepare a website that will build your business image and feed your brand to the world! Call 808.982.3858 or email This email address is being protected from spambots. You need JavaScript enabled to view it. to schedule your free web design consultation today!